SOS Limited Reports Financial Results for the Fiscal Year Ended December 31, 2022
May 18,2023 EST
New York USA, May 18, 2023 (PR NEWSWIRE) – SOS Limited ("SOS" or the "Company") (NYSE: SOS) today reported its full year financial results for the twelve-months ended December 31, 2022 and the filing of its annual report on Form 20-F with the Securities and Exchange Commission ("SEC"). The annual report can be accessed on the SEC's website http://www.sec.gov as well as on the Company's investor relations website at https://service.sosyun.com/sos_en/investorRoom.html
The Company will provide a hard copy of its annual report containing the audited consolidated financial statements, free of charge, to its shareholders and ADS holders upon request. Requests should be directed to the Company at ir@sosyun.com
Results of operations
Revenue
The revenue decreased from $290.9 million in 2021 to $260.1 million in 2022, representing a decrease of 11.8% which was primarily due to a decline in the commodity trading business segment's turnover volume. This decrease was negatively impacted by recurring pandemic outbreaks, prompting the Chinese local and central governments to enforce stringent control measures, including city-wide shutdowns, to prevent further spread. These measures severely restricted people's mobility and business operations both within China nationally and out of the country globally. The following table presents our revenue by source and by proportion for the periods indicated (in thousands, except percentages):

As of December 31, 2022, SOS has focused on four product lines and services, including commodity trading, insurance marketing, cryptocurrency mining and others. Insurance marketing was re-classified as discontinued operation for the year ended December 31, 2022 and 2021, respectively and was disposed of on November 2, 2022. The other three product lines, commodity trading, cryptocurrency and others constitute 98.3%, 0.1% and 1.6% of the total revenue, respectively. Commodity trading slowed down by 7.2% from $275.4 million to $255.7 million as it was affected by the pandemic control measures.
The Company began generating revenue from cryptocurrency mining in February 2021 and as of December 31, 2022, has mined an aggregate of 174.28 units of BTC and 2,949.79 units of ETH from its mining pools. Revenue from cyptocurreny mining largely decreased from $15.4 million to $0.3 million As the price of BTC fluctuated from $47,687 on January 1, 2022 to $16,548 on December 31, 2022 per coin over the year, its profitability diminished as the price further decreased. Consequently, the Company temporarily suspended its production line, maintaining only a few ETH machines in operation online. Others include legacy business of SaaS, call centers and promotional service.
Costs of revenue
Revenue costs increased from $227.9 million in 2021 to $270.6 million in 2022, an increase of $42.7 million. It includes the cost of goods sold for commodity trading, data acquisition costs for the insurance marketing business, maintenance expenses and power supply, salaries and benefits for on-site staffs, software amortization & hardware depreciation for cryptocurrency mining rigs.
Operating expenses
The following table presents our operating expense by source and by proportion for the periods indicated (in thousands, except percentages):

Operating expenses increased from $56.0 million in 2021 to $204.0 million in 2022, representing a year-on-year increase of $148.0 million.
Selling expenses increased from $0.7 million in 2021 to $8.6 million in 2022, representing an increase of $7.9 million, mainly attributable to customs duties, service fee of customs clearance and warehouse rental as the Company bought inventory from vendors in mainland China in the year of 2021, turning to import goods from oustside China which incurred additional costs including import duties and flight charges since early 2022.
General and administrative expenses increased from $21.8 million in 2021 to $180.7 million in 2022, representing a year-on-year increase of $158.9 million, mainly attributable to the increase of crypto miners' impairment loss, miner-related inventory writedown, bad debt provision for other receivables and prepayment of $151.8 million. Initially the Company's accounting policy is to amortize mining property, plant and equipment (PP&E) over its useful life of five years, then the PP&E and related inventory is required to be written down to align with its peers in block-chain industry, to conform with the common practice of amortizing the PP&E over its useful life of 2-3 years.
Share-based compensation expenses decreased from $33.5 million in 2021 to $14.7 million in 2022, representing a decrease of $18.8 million mainly due to the slump of global capital market, which lowered the Company's share price over the year; generally lower share price resulted in lower share-based compensation expenses.
GAAP Operating Loss and EPS
The Company had operating loss of $204.4 million for the year of 2022, compared to an operating loss of $41.4 million for the year of 2021 due to the heavy writedown for inventory, impairment loss for miners and bad debt provision for other receivables and prepayments
GAAP EPS Basic (Diluted EPS is the same as EPS Basic) was $(0.07) per share for the period ended December 31, 2022, as compared to $(0.02) per share for the period ended December 31, 2021.
Income Tax
The company incurred $0.5 million in corporate income tax mainly from mainland Chinese business of data mining and commodity trading segments for the current period compared to $0.77 million last year.
Balance Sheet and Cash Flow
As of December 31, 2022, the Company had cash and cash equivalents of $264.4 million, compared to $338.0 million for the period ended December 31, 2021. The net decrease in cash flow was mainly due to its decrease in operating activity, partially offset by financing activities through registered direct offerings. The Company believes that its cash resources are adequate to fund its current operations and short-term growth initiatives.
.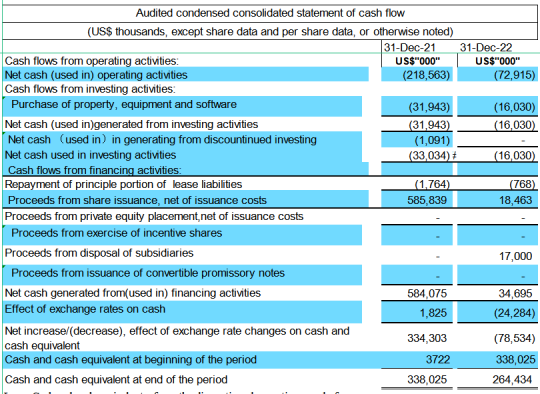 Cash Flow Used For Investment Activities
The Company disposed of its data mining business segment on November 2, 2022 for a consideration of $17 million, which realized a gain of 0.81 million.
Financing Activities
During the fiscal year ended December 31, 2022, the Company received aggregate net proceeds of US$18.5 million from registered direct offerings in April 2022 compared to $585.6 million for the year ended December 31, 2021.
About SOS Limited
SOS is an emerging blockchain-based and big data-driven marketing solution provider, with a nationwide membership base of approximately 20 million in China. SOS is also engaged in blockchain and cryptocurrency operations, which currently include cryptocurrency mining and maybe expand into cryptocurrency security and insurance in the future Since April 2021, we launched commodity trading via our subsidiary SOS International Trading Co. Ltd, The core infrastructure of SOS' marketing data, technology and solutions to insurance and emergency rescue services is built on big data, blockchain-based technology, cloud computing, AI, satellite, and 5G network, etc. SOS has created a cloud "software as a service (SaaS)" platform for emergency rescue services, with three major product categories: basic cloud, cooperative cloud, and information cloud. This system provides innovative marketing solutions to clients such as insurance companies, financial institutions, medical institutions, healthcare providers, auto manufacturers, security providers, senior living assistance providers, and other service providers in the emergency rescue services industry. For more information, please visit: http://www.sosyun.com/ .
Certain statements in this press release may constitute "forward-looking statements" within the meaning of the federal securities laws, including, but not limited to, our expectations for future financial performance, business strategies or expectations for our business. These statements constitute projections, forecasts and forward-looking statements, and are not guarantees of performance. SOS cautions that forward-looking statements are subject to numerous assumptions, risks and uncertainties, which change over time. Words such as "may," "can," "should," "will," "estimate," "plan," "project," "forecast," "intend," "expect," "anticipate," "believe," "seek," "target," "look" or similar expressions may identify forward-looking statements. Specifically, forward-looking statements may include statements relating to the Company's:
· ability to execute its business plan;
· changes in the market for SOS' products and services; and
· expansion plans and opportunities.
These forward-looking statements are based on information available as of the date of this press release and our management's current expectations, forecasts and assumptions, and involve a number of judgments, risks and uncertainties that may cause actual results or performance to be materially different from those expressed or implied by these forward-looking statements.
These risks and uncertainties include, but not are limited to, the risk factors described by SOS in its filings with the Securities and Exchange Commission ("SEC"). These risk factors and those identified elsewhere in this press release, among others, could cause actual results to differ materially from historical performance and include, but are not limited to:
· US government's policies and regulatory oversight of crypto currency mining operation and our other operations;
· SOS's cryptocurrency mining, commodity trading and marketing solutions businesses are still under development, with many uncertainties in integration of these various business segments;
· Failure to manage the newly launched commodities trading business effectively;
· Loss of key customers in the commodity trading business;
· failure to access a large quantity of power at reasonable costs could significantly increase SOS operating expenses and adversely affect our demand for SOS's mining activities;
· shortages in, or rises in the prices of mining machines may adversely affect the Company's business;
· any significant or prolonged failure in the data warehouse facilities and data mining facilities that SOS operates or services it provides, including events beyond its control, would lead to significant costs and disruptions and would reduce the attractiveness of its facilities, harm its business reputation and have a material adverse effect on its results of operation;
· security breaches or alleged security breaches of our data warehouses could disrupt SOS operations and have a material adverse effect on its business, financial condition and results of operation; and
· other risks and uncertainties indicated in SOS's SEC reports or documents filed or to be filed with the SEC by SOS.
Accordingly, forward-looking statements should not be relied upon as representing our views as of any subsequent date, and you should not place undue reliance on these forward-looking statements in deciding whether to invest in our securities. We do not undertake any obligation to update forward-looking statements to reflect events or circumstances after the date they were made, whether as a result of new information, future events or otherwise, except as may be required under applicable securities laws.